Mr Green – Casino Operator of the Year 2014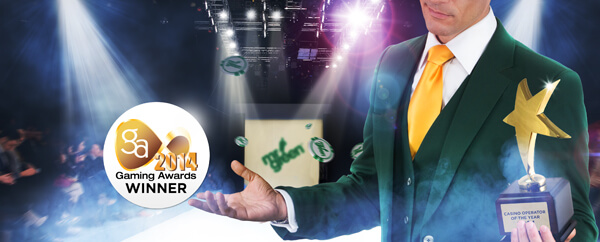 It's still some time until the Oscars in Hollywood, but at one of the most significant awards of the iGaming industry it was time for "And the Winner is…Mr Green!"

The trophy, a golden star, awarded for "Casino Operator of the Year 2014", was given to representatives of Mr Green with thundering applause. Everywhere in Europe people are talking about Mr Green. Adepts of the gaming industry as well as international casino expertsagree on one thing: Mr Green is the absolute number 1 among internet casinos! No other operator was able to impress the renowned panel of experts of the IGA (International Gaming Awards) like the gentleman in green.
His recipe for success
The phenomenal success story of Mr Green is branded by hard work, passion and enthusiasm for the essential thing – an unforgettable casino experience that's akin to those at the prestigious casinos of Monte Carlo. The numerous awards that Mr Green has collected so far are proof of his success.