Life-changing $326 Million Jackpot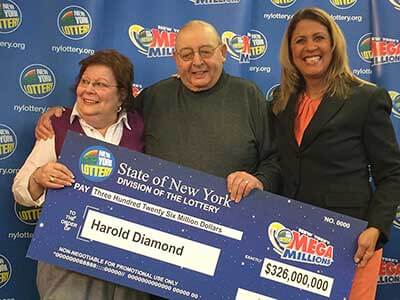 The New York Lottery's Yolanda Vega today presented a Mega-sized ceremonial prize check to Harold Diamond, 80, of Wurtsboro, Sullivan County. The retired Elementary School Principal was the sole winner of a $326 million Mega Millions jackpot drawn on November 4, 2014. Vega introduced the soft-spoken winner at the Valero on Route 302 in Middletown where he purchased his life-changing ticket.
"My wife and I were driving to Middletown for dinner after voting on Election Day but the weather made us rethink our plans," said the 39-year veteran of the Monticello School District who served as Principal at George L. Cook Elementary in Monticello before retiring in 1995. "My wife insisted we stop here to eat and wait for the weather to clear, and I reluctantly agreed."
Diamond noticed the Mega Millions jackpot flashing on the Lottery terminal as he ate at the Subway shop located within the Valero and decided to spend $10 for 10 sets of Quick Pick numbers for that evening's drawing."
I put the ticket in my wallet and forgot about it," he said matter-of-factly. "I went to play golf the next day and the guys in the clubhouse were talking about the jackpot-winning ticket someone bought at a Valero on Route 302 and I thought, wait a minute – I bought a ticket there last night!"
Diamond said he dashed home to catch the winning numbers on the evening news and saw the six numbers drawn matched the second set of Quick Pick numbers printed on his ticket making him the sole winner of the largest jackpot ever claimed in New York.
"I was in a dither; a real daze" he recalled.
The winning numbers for the November 4, 2014 Mega Millions drawing worth $326 million were 09 15 24 39 41 and Mega Ball 01.
Diamond said he owes his new fortune to his wife Carol, a 36-year veteran of the Goshen school district where she taught math at Goshen High School before retiring in 1994.
"I have to thank her with both barrels because if it weren't for her insistence, we would not be here today," he said.
Diamond said he has been working with a financial advisor to plan for what comes next, but concedes it's an awesome task. "I simply can't envision that kind of money," he laughed, shaking his head. "It's very hard to fathom. We feel very blessed."
Diamond opted to take the cash value of the annuitized prize, earning him a single lump sum payment totaling $197,456,087. His net check will total $130,676,438 after required withholdings. Preliminary plans for the money include helping family and "giving back to the local community."
Source: Mega Millions